Our Events

Community Event
Agway of Cape Cod is looking for the Cape's next Top Dog! Show us your pooch enjoying life on the Cape. Enter your photos May 30 - July 31 on Facebook, Instagram and Twitter. Vote for your favorites through August 5! Grand prize and fan favorite winners!
4 Ways to Enter Your Photos:
1. Click the button on our Facebook page & upload your photo
2. Tag your photos on Instagram with #AgwayTopDog
3. Tag your photos on Twitter with #AgwayTopDog
4. Email to topdog@agwaycapecod.com
Enter through July 31. Vote for your 10 favorites through August 5.
Prizes:
Fan favorite — $250 Agway of Cape Cod Gift Card
Grand Prize — Year's Supply of Dog Food from Blue Buffalo + Pet Photo Session with Cold Nose Photo
7/17/2015 from 10:00 am to 11:00 am
Agway of Orleans

- 508-255-8100
Ask Agway: All About Hydrangeas Workshop
In-store Event
Hydrangeas are a quintessential part of gardens across Cape Cod. Join Agway of Cape Cod for an informative Ask Agway: All About Hydrangeas Workshop 10-11 a.m. Friday, July 17 at the Agway of Orleans Nursery Center.
During the workshop Agway experts will cover different types of hydrangeas, where best to place them, proper pruning, feeding and more. Don't forget to bring your questions, our experts will be happy to answer them as well. Workshop attendees will also receive a special one-day only coupon for additional savings off in-stock plants!
This free workshop is held in conjunction with the 2015 Cape Cod Hydrangea Festival, a 9-day event celebrating the region's blue, pink, and white signature flowers!
The Orleans Agway Nursery Center is located at 10 Lots Hollow Road Orleans, MA 02653. To learn more about this workshop, visit our website at agwaycapecod.com.
7/17/2015 from 11:00 am to 1:00 pm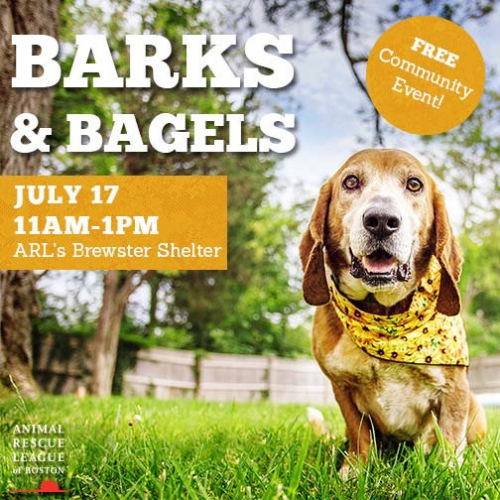 Barks & Bagels
Community Event
Don't miss the Barks & Bagels open house at the Animal Rescue League's shelter in Brewster, MA on Friday, July 17 from 11am to 1pm! All are welcome to attend this FREE event but please note, this event is for our human friends only.
Enjoy breakfast while learning how the ARL has supported the community of animals and residents on Cape Cod since 1921. Guests will also be entertained by our shelter dog show, where each pup will be introduced and impress the crowd with their unique personalities.
Learn more on this event www.arlboston.org/ai1ec_event/barks-bagels/.